2012 Millage set at 4.7815
---

Click HERE for Channel 20 Video of the meeting.
---
In a relatively short meeting last night, the County Commission approved a 2012 budget by a 4-3 vote. Setting the county-wide millage at $4.7815 per $1000 valuation, the rate is an increase of 0.66%.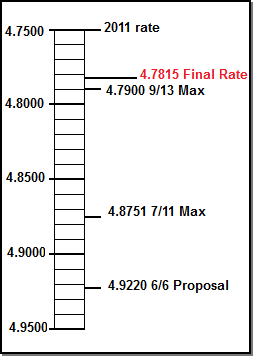 TAB has been working over the last few months to avoid any increase, but this outcome is acceptable, given it is a lot closer to our $4.75 target than the rollback rate proposed in June at $4.922. We would have liked to see more restraint in the Sheriff's budget (it is actually increasing when pension reform savings are taken into consideration), but four of the seven commissioners were hard over on not cutting his budget at all. The Sheriff did pony up $1M in excess fees that helped them bring the millage down ever so slightly.
This was the closest budget vote in recent years – many thanks to commissioners Abrams, Burdick and Marcus, who kept to their position from the beginning of the process back in March to the final vote not to raise the rate. The others did exhibit some flexibility this year, even Burt Aaronson who has rarely argued for lower tax rates. Commissioner Taylor thought that the result was a compromise that had something for everyone and we would agree.
It can't be proved whether our efforts in TAB have affected the outcome, but given the starting proposal of 4.922 and the significant progress towards the goal, we would like to think so. Almost all of those who spoke at the meetings in opposition to the tax hike were associated in some way with TAB.
Special thanks to those who spoke at the final meeting: Janet Campbell, Mel Grossman and Laura Henning of PBC Tea Party, Mayor Dan Comerford and Commissioner Chip Block of Jupiter Inlet Colony, Matthew Leger, Dionna Hall and Christina Pearce of RAPB, County Commission candidate Albert Key, State Senate candidate and 912 member Mike Lameyer, South Florida 912 members Dennis Lipp, Victoria Thiel and Nancy Hogan, and Barbara Susco, Mark Dougan, as well as Fred and Iris Scheibl of TAB.
Next year will be particularly challenging for the county budget, with an increase in pension costs expected as well as continued pressure on valuations. Be assured that TAB will continue our watchdog role going forward.