In an unrelenting desire for ever more taxpayer money, the county Administrator has proposed a $57M tax increase for the next fiscal year, which will be in addition to about $75M per year that the county will get from the sales tax if approved by the voters.
This is just greedy.
The first budget workshop for the 2017 budget will be held on Tuesday, June 14 at 6PM in the BCC chambers, 301 N. Olive Street, 6th floor.
Links:
At $787M, up 7.9% over last year's county-wide operating tax haul (which was the highest in county history), this budget will surpass the peak tax during the real estate bubble by almost $100M and is up 32% from the post-bubble low of 5 years ago.
During these last 5 years, inflation (measured by the consumer price index) is up only 4%, and the population has grown by only 3%. So why do they need to increase taxes by 32%?
One reason is employee raises – cost of living raises across the board of 3% each of the last 4 years (did you get a 12.6% raise over the last 4 years?).
Another is the insatiable appetite of the Sheriff. The current budget of $511M is up from $394M in 2012 – an increase of $117M (30%) in 5 years. Maybe PBSO needs it to pay for all those use-of-force lawsuits they have been losing lately.
Not part of the county-wide budget, but paid by those in their service area, county Fire/Rescue is also up 30% in those 5 years.
By keeping millage constant since 2012, they have been able to ride the increase in property valuation that has almost (but not quite) returned to its 2008 peak, at $164.5B.
We think the millage should be reduced this year. If they really expect the sales tax increase to pass in this interesting "anti-establishment" year, then show some confidence by reducing the ad-valorem burden.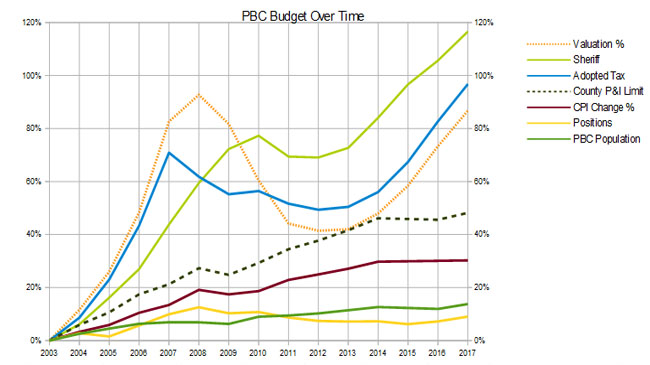 In the above chart, the dotted orange line shows what has happened to property valuations – peaking in 2008, dropping to a low in 2012, and then climbing almost back to the peak. The dotted green line is a combination of population growth and inflation – a measure of "reasonable" tax growth. Comparing this to the blue adopted tax line, you can see how much more our taxes have risen over what is reasonable. And of course the green "Sheriff" line is a tale unto itself.