On Tuesday evening 9/5 at 6:00PM, the County Commission will hold the first of the two required public hearings on the budget for the 2018 fiscal year.
The meeting will be held on Tuesday, September 5 at 6PM in the BCC chambers, 301 N. Olive Street, 6th floor.
Links:
There are no surprises, as the budget presented in the June and July workshops is essentially the same. At the July meeting, the maximum millage was set at 4.7815, unchanged since 2011. The county staff again proposes to take full advantage of another rise in property values by continuing the 4.7815 millage rate and reaping a tax increase of $56M, up 7.1% over last year, for a total ad-valorem tax levy of $846M. (NOTE: For comparison, we use the stated spending levels in the adopted budget from the previous year, not rollback. General fund ad-valorem taxes in the last budget year were $789.6M, hence the current budget is up 7.1%.)
There is no discussion of reducing millage in recognition of the $75M windfall from the sales tax surcharge. When property tax is combined with the yearly surcharge revenue, the total take of $921M is up 54% over the last 5 years.
This is the fifth year in a row of a 3% across the board pay increase for all employees, representing a raise of 16% since 2013. The Sheriff, as usual, gets a 5% increase and at $542M, now represents about 53% of the total countywide net ad-valorem spending (exclusive of the dependent districts – Fire/Rescue and Library).
The graph below shows the trend in ad-valorem taxes and millage since 2003, with the sales tax surcharge added to put it in perspective.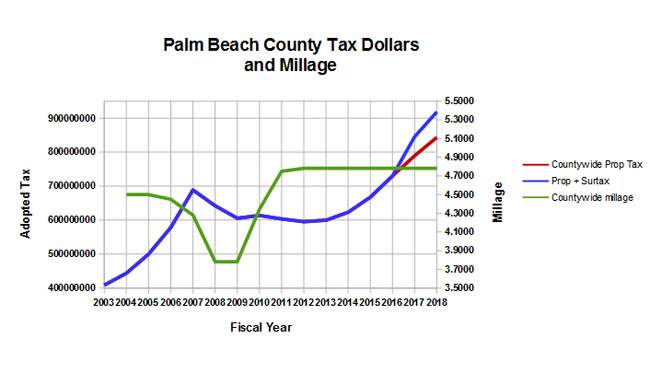 The next graph shows the budget over time compared to the valuation curve and the "TABOR" line. The orange dotted line is valuation which has just doubled since 2003 and is at a new peak for the first time following the 2008 "crash". Note that the Sheriff's budget has shown little restraint and has only declined once in 15 years – it is now up about 130% since 2003.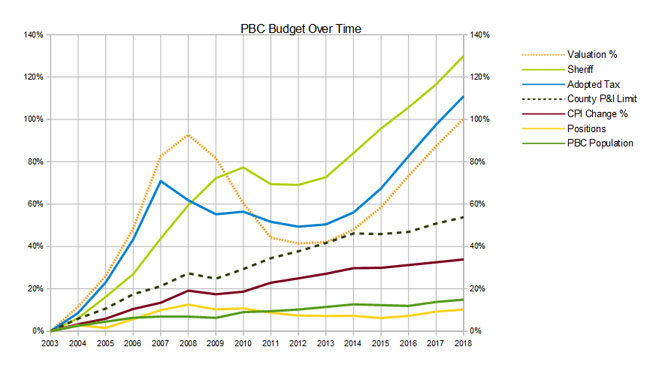 The "TABOR" line (green dotted "County P&I limit") reflects the combination of inflation and population growth over time and is a model for what responsible budget growth would look like. TABOR would suggest a growth in taxes of about 54% for the period. Although not shown on this graph, if the Sheriff's budget is subtracted from the total, the budget for the rest of the county departments has not exceeded the TABOR line, clearly indicating where the problem lies.
For more information, see the First Public Hearing Package.