SWA Board Selects Babcock and Wilcox
---
The Taxpayers won again – just barely.
After a 9 1/2 hour marathon meeting at the Solid Waste Authority auditorium on Jog Road, the SWA board upheld their selection committee's choice of Babcock and Wilcox to build and operate the $600M waste-to-energy plant that is the biggest taxpayer-funded project ever undertaken in the county.
This was good news for the taxpayer since on the "future value" method of comparison by SWA consultant Malcom Pirnie, Inc., the $500M B&W bid was considerably lower than Wheelabrator ($626M or 25% more) and Covanta ($779M or 56% more).
But the day was not without drama, ending as it did with a 4-3 squeaker that had Commissioners Marcus, Vana and Burdick seemingly acting counter to the evidence presented, to spurn the low bidder in an attempt to "renegotiate" a price with their preference – Wheelabrator – currently at $126M (25%) over the B&W price.
This curious move by the three would have repudiated the unanimous decision of the selection committee that was led by County Administrator Bob Weisman, their high priced consultant Malcom Pirney, Inc., and the entire SWA staff – all of which worked for months to evaluate the very complex proposals. Why would they do this? Some in the audience seemed dumbfounded as what seemed a clear decision was suddenly thrown into chaos. It came down to a union issue for Vana and Marcus – they made it clear that they didn't like Babcock and Wilcox partner BE&K very much, having been unsuccessful in the past in trying to force the company into signing a collective bargaining agreement with a local union. It was not clear why Paulette Burdick voted this way and she offered no comment or explanation. Their motion was quickly questioned by Commissioner Aaronson who did not see the wisdom of rejecting advice of consultant and staff.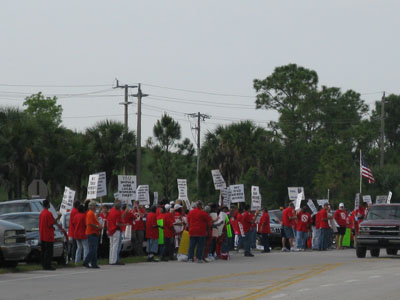 The day began with a sizeable protest on Jog Road in front of the facility, and the road was parked in for a mile from the site. The red-shirted protesters, banging on drums and waving signs in front of the facility entrance, all wore identical shirts indicating that they didn't like B&W partner BE&K, and they "wanted jobs". When asked which of the bidders they wanted to win, some of the protesters told us they didn't know or care – just wanted jobs with as much pay as possible. They couldn't tell us who the bidders were – even though their shirts clearly had the letters BE&K in a circle with a slash through it. They would not tell us if they belonged to a union – they just "wanted jobs". Another with whom we waited in line to enter the facility, an experienced pipefitter, was more knowledgeable. He was protesting the BE&K practice of hiring skilled labor from out of state. "They are owned by Haliburton" he said – "and you know what they are like". (Editor's note – this was repeated by several speakers at the meeting but to our knowledge was never true. B&W was spun off last year from parent McDermott International, which has participated in some joint ventures with Haliburton.)
In the meeting, the morning was consumed by a challenge to the B&W selection raised by Wheelabrator. The Wheelabrator legal consultant presented a polished, well argued accusation of B&W bid process violations, largely a repeat of the points made (and rejected) in the selection committee meeting in March (Today, the Taxpayer Won), followed by B&W rebuttal and an hour long exposition of the finer points by SWA attorney. This was resolved after much discussion on a 5-2 vote for Commissioner Abrams motion to deny the challenge.
In the afternoon, the public comment session heard from about 50 speakers at 2 minutes each. There would have been more but word spread that the deputies at the entrance to the facility were turning people away, saying the meeting and parking lot were full. Chairman Vana asked the SWA staff to get that stopped and allowed latecomers to talk, even if they had not submitted a card. The speakers fell in several main groups – 16% wanted to stop the project altogether, 18% opposed BE&K, 29% supported BE&K, and 37% "just wanted jobs", without indicating a preference for bidder.
Each vendor was then given 15 minutes to present, followed by questions by the board members. Some of the morning's session was rehashed, but much time was spent on the local hiring issue, and the amount of skilled and unskilled positions each company had committed to fill with local labor. Commissioner Aaronson pressed them all for much higher numbers, much to the delight of the crowd. Commissioners Vana and Marcus challenged the BE&K representative to confirm or deny that their "business model" precluded them from hiring union labor, and referred to discussions relevant to another project. The answer was that they will hire anyone with the requisite skills, they just will not sign a collective bargaining agreement that prevents them from hiring non-union from the same trade. Commissioners Marcus and Vana did not feel that was sufficient and implied that failure to sign a bargaining agreement was equivalent to rejecting union workers. (There is clearly more to this story but a fuller explanation could not be discerned from the public statements.)
Commissioner Aaronson found the concept of renegotiating the price (the only attribute that can be discussed under the terms of the RFP) as unfair as it allows another trip to the well. He questioned Covanta on why their bid was $279M higher than B&W and received "we made a mistake" for an answer. Indeed. Commissioner Taylor drilled in on some of the issues raised earlier in the challenge, particularly the partnership relationship between B&W and BE&K, and their insurance arrangements. Commissioner Santamaria pointed out that very few environmental organizations were objecting to the plant, including some he had specifically contacted. Commissioner Abrams on several occasions brought perspective to the discussion, reminding the others that the technical differences between the proposals were slight, the costs differences vast, and the local hiring percentages in the bids actually favored B&W over Wheelabrator.
It was a thorough and long session, and when it came time for a vote, Commissioner Taylor moved that B&W be "conditionally" awarded the bid, subject to firmer statement on local hiring. SWA Attorney pointed out that the terms could not be renegotiated, so Commissioner Abrams introduced a motion for outright award and Taylor seconded. It was at this point that commissioners Vana and Marcus said they could not support that motion and introduced their own – to award Wheelabrator and renegotiate the price. There was some surprise at this, both on the board as well as in the audience. After some additional arguments on all sides, Commissioners Aaronson and Santamaria joined Abrams and Taylor and voted to adopt staff recommendation for Babcock and Wilcox and the deed was done.
Another win for the Taxpayer.