Martin fire-rescue workers forgo raises in contract approved by County Commission

Tuesday, August 23, 2011
STUART — Martin County's 300 fire-rescue workers will not receive raises in the next three years under a contract approved Tuesday by a divided County Commission.
That, combined with additional givebacks could total as much as $460,000 in savings.
Read the entire story by George Andreassi in TCPalm HERE
Back in June, the County began public meetings about its ongoing Charter Review. The County Charter is its 'constitution' and describes Home Rule. There are 20 Home Rule or Charter Counties in Florida. Palm Beach County does not have a formalized Charter Review process, and this is the first comprehensive review to have taken place.
The Charter and the county's charter review website can be found here. While there are a few changes that the Commissioners would like, citizens can input their own suggestions via the County Website. Suggestions are limited to 300 words per suggestion. Here is a link to the survey page. You can make as many submissions as you like.
There are many significant proposals that have surfaced, including county-wide commission districts, non-partisan elections, and converting some (or all) constitutional offices into county departments. We do not favor any of these as they appear to risk too many unintended consequences.
Attached are five proposals that we believe would improve county governance. One of these, "Smart Cap", would have a direct affect on the county budget and we have explored that in depth in "Smart Cap – Good for the State, Good for the County".
If you agree with any or all of these proposals, you can participate in the process by submitting the text contained within the box yourself using the county tool referenced above. To submit any of the ones listed below, just click on the [COPY] to the right of the suggestion you would like to copy, and then cut/paste from the text that comes up and submit that to the survey link above. All of the descriptions fall within the 300 word limit. Friday, August 26, is the last date on which submissions will be accepted on the county website.
Review all boards and advisory committees every four years
---
Objective: Formalizes a review process to remove unnecessary, redundant, or obsolete Boards and Advisory Committees.
Precedent and wording from Broward County Section 2.09 F
The County Commission shall adopt procedures to provide for the review of the performance of all Boards, Committees, Authorities and Agencies at least once every four (4) years. As part of its review of the respective Board, Committee, Authority or Agency, the County Commission shall determine, by resolution, that the applicable Board, Committee, Authority, or Agency is needed to serve the public interest, and the cost of its existence to the citizens and taxpayers is justified. The review provision shall not apply to any Board, Committee, Authority, or Agency established by this Charter.
County Version of Smartcap (this is a TAB proposal)
---
Objective: Limits spending growth to population growth and inflation formula
Reference: State Revenue Limitation (CS/SJR958). The yearly adjustment factor is calculated based on the previous year's cap, not revenue collected. This avoids the problem encountered by Colorado "TABOR" which caused excessive reductions in spending during an economic downturn.
Precedent: Brevard 2.9.3.1(a): http://www.brevardcounty.us/countycharter/charter-article2.cfm – s29 and City of Jacksonville Sections 14.08/14.09: http://library.municode.com/index.aspx?clientID=12174&stateID=9&statename=Florida
Suggested wording: 1) For each budget year, county revenue collected is limited by the state computed adjustment factor defined in CS/SJR958. 2) Exemptions are allowed for unfunded mandates and certain other classifications of spending. 3) Emergency override is permitted with a super majority vote of the BCC.
Periodic Mandatory Review of the Charter by Independent Commission
---
Objective: Formalize the review of County Charter, instead of the ad hoc approach being taken during the current county review.
Precedent: 16 of the 20 Home Rule counties have a formal appointed* Charter Review Commission specified in their Charters. Period ranges from every 4 years to every 10 years. Size of Commission ranges from 10-15 individuals, with majority or 2/3 vote required to bring an amendment forward, and most scheduled to coincide with General Elections. *Sarasota County has an elected Charter Review Commission
Recommendation: Modify the charter to require a Formal review, by appointed review commission consisting of citizens, with an odd number of commissioners and majority vote, every 8 years, with results to coincide with a general election.
Debt Policy
---
Objective: Transparency and Accountability
Precedent: Charlotte County Sec 2.2.J
http://library.municode.com/index.aspx?clientID=10526&stateID=9&statename=Florida
Text from Charlotte County:
The county commission shall adopt and review annually, prior to April first of each year, a debt policy to guide the issuance and management of debt. The debt policy shall be integrated with other financial policies, operating and capital budgets. Adherence to a debt policy helps ensure that debt is issued and managed prudently in order to maintain a sound fiscal position and protect credit quality. Elements to be addressed in the debt policy shall include:
(1)The purposes for which debt may be issued.
(2)Legal debt limitations, or limitations established by policy (maximum amount of debt that should be outstanding at one time).
(3)The types of debt permitted to be issued and criteria for issuance of various types of debt.
(4)Structural features of debt (maturity, debt service structure).
(5)Credit objectives.
(6)Placement methods and procedures.
State of the County Quarterly/Annual Report
---
Objective: Transparency and Accountability by the administrative branch of the county
Precedent: Broward County 1.04 L: http://library.municode.com/index.aspx?clientID=10288&stateID=9&statename=Florida
Lee County: 2.3.A.1.(a): http://library.municode.com/index.aspx?nomobile=1&clientid=10131
The County Commission shall require and the public is entitled to have access to a Management Report published by the County Administrator, and made public on a quarterly basis, detailing the performance of the County government offices, divisions and departments. The Management Report shall include, but not be limited to, a report on the receipt and expenditure of County funds by each County office, division and department, and a report of the expected and actual performance* of the activities of each County office, division and department.
*Performance shall include measurements (benchmark metrics like head counts against peer counties) in key areas/contingent liabilities for long term union contracts and capital projects/annual market comparison of salaries and benefits (peer counties and private sector), other issues.
The "negotiations" between Palm Beach County and the International Association of Fire Fighters, local 2928 have now been in progress for three months. With the exception of some minor cleanup in the text, there has been no agreement on anything. The major issues of starting salary (the county wants a 22% reduction) or employee contributions toward health insurance (3%) have not even been broached in the public meetings.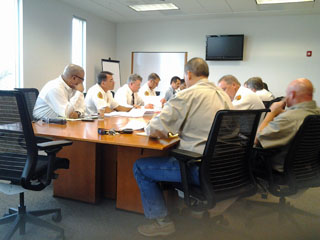 Seemingly minor issues, such as posting the seniority list on the intranet rather than on bulletin boards give rise to heated discussion, complete with implausible hypotheticals and the predictions of dire consequences. The county proposal to allow internal raters on promotional boards is treated by the union as if it was a wholesale rejection of a merit system for one of abject cronyism.
Yet with the exception of one heated exchange between attorneys over the "impasse" of qualifying overtime on a weekly rather than daily basis, the discussions have been cordial. The only problem is that they have accomplished absolutely nothing.
TAB volunteers have sat through these meetings, joined at various times by members of the press and a representative of the county Inspector General's office. While the meetings have been about as exciting as watching paint dry, the way they have been conducted has been instructive in how public sector unions maintain their control over the functions of government.
Why this lack of progress?
The county, for their part, have proceeded in a workmanlike manner. Led by Attorney Robert L. Norton and Chief Steve Jerauld, their 6 member team has put their cards on the table in the form of detailed modifications to the existing contract document and walked through it in painstaking detail for the union representatives. They showed up for the meetings on time, and have been reasonable in the representation of their position. Of course their negotiating position is modest – other than the reduction in starting salary that affects nobody currently represented by the IAFF, there is no attempt to pare down the salaries and luxurious benefits enjoyed by current employees. The county team appears to be serious about completing the negotiations in a timely manner, and have tried multiple times to get additional meetings scheduled to expedite the process.
The union on the other hand, seems content to let the talks drift along. Led by Attorney Matthew J. Mierzwa, they have avoided agreeing to anything, even minor changes in wording. They showed up an hour late for the August session, a public meeting that had been on the county web calendar for quite a while, claiming "miscommunication". (The county team was there on time, as were the observers). In the first meeting, halfway through the first "caucus", they abruptly terminated the discussion and did not return until the next month's meeting. One of their team of nine negotiators made the incredible statement that he had not read major sections of the county proposal because "he knew he wouldn't agree with it".
It appears to an outside observer that the county wants to conclude a new contract and the IAFF does not. Why would that be?
The contract expires at the end of September. The new county proposal contains new hire salary reductions, benefit cost sharing, and other things that disadvantage the union. The union version omits the reductions but does agree to forgo across the board salary increases in the new contract, subject to the condition: "Should the assessed value of properties in Palm Beach County or total revenues for Fire Rescue increase during the term of this agreement, the Union may reopen this Article for further negotiations."
Maybe they want to run out the clock the way Congress does on major legislation. Perhaps they feel an improving economy will strengthen their hand. It is hard to say.
Although it is early to speculate, what if no agreement were to be reached? In that case, resolution would follow the rules of Florida Statutes Chapter 407.403 – "Resolution of Impasse" which involves mediation by a special magistrate. You may recall that this was a step in the resolution of the Fire/Rescue contract in the Town of Palm Beach. Ultimately it fell to the city council to impose what was a significant setback to the IAFF in that town. In this case, it would fall to the County Commission to impose a settlement.
The process continues in a planned all-day session on September 14, unless the proposal for four additional meetings requested by Mr. Norton is accepted. It should be pointed out that all participants in these discussions (6 for the county and 9 for the union) are being paid by the taxpayers. The attorneys of course are generating billable hours.
Is there really a swing vote who will decide if our tax rates are increased this year? It is possible.
During the July budget workshop, the vote to raise the maximum millage to rollback (4.8751) was 4-3. Commissioners Abrams, Marcus and Burdick voted no to the increase and all had good reasons to avoid a third hike in so many years. Commissioners Aaronson, Santamaria, and Taylor voted for the hike. They also gave reasons that are not likely to change in September.
Which leaves District 3 Commissioner Shelley Vana. Her votes on tax increases have been mixed, voting against the 14.9% hike in 2009 but supporting the 9.4% increase in 2010. This year, she voted to raise the maximum millage to keep "options open", but suggested that there were more savings to be had and she would like to keep the tax rate unchanged when it comes up for the final vote in September.
After the July budget hearing, TAB sent the following in an email to Commissioner Vana:
"We were somewhat surprised at the contrast between your sentiment and your vote on the millage increase. While you continue to talk about efficiencies and metrics and finding another path than raising tax rates or cutting programs, you did not hesitate to vote the higher number.

It is not sufficient to say that it is a "starting point". I've been watching this process for enough years to know how September will go. If you really think that another $12M (the difference between 2011 adopted tax and 2012 rollback) could be extracted from a $4B budget, and you intended to pursue it, then you would have voted for 4.75 to force the issue. For $12M you have poked a stick in the eye of the taxpayer. Actions speak louder than words.

If we are misreading your intentions, we would be glad to meet with you and correct our analysis."
In response, and to her credit, she got in touch with us and made a convincing case that there was another $12M to be had and she just might ".. be the fourth vote .." for flat millage in September.
We found this encouraging, but we also know that there are powerful interest groups in the county for continuing programs and taxes that speak very loudly to the commissioners. Those who do not want to see a tax rate increase are rarely heard. More to the point, it is the citizens of District 3 that should matter the most to the Commissioner, not any of the special interests, or even TAB.
Along these lines, two of TAB's coalition partners have decided to reach out to the constituents of District 3 and educate them on the 2012 budget, and their Commissioner's role as the potential "swing vote".
The recently formed Palm Beach County Tea Party, with chapters in Jupiter, Wellington and Boca Raton will join forces with the South Florida 912 which meets in Palm Beach Gardens, Wellington and Lantana. Each of these groups is organizing a phone bank to contact District 3 citizens and ask them to make their wishes known to Commissioner Vana. They believe that many of the citizens would oppose a third year of tax rate hikes. If so, perhaps they can help the Commissioner find the additional $12M in cuts it will take to not raise our taxes again.
TAB applauds this effort and believes it is a new approach to broadening the county budget discussion beyond the commission chambers and the pages of the Palm Beach Post. It may turn out more attendees at the budget hearings who oppose another tax increase. At a minimum, it will have educated a larger group of county residents about the way their taxes are set.
If you would like to assist one of these organizations in their effort, you can contact them as follows:
Palm Beach County Tea Party: action@palmbeachcountyteaparty.org
South Florida 912: action@southflorida912.org